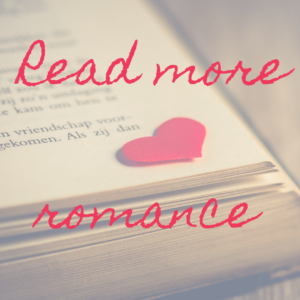 Romance Recommendations
Wondering what to load onto your kindle for that week-long vacation under swaying palm trees (or maybe you need to escape the laundry pile for just a few more hours)?  Here are some of Jenny's favorites:
Tessa Bailey– Bailey was first known for scorching bedroom talk, but her recent books have delved into deeply emotional topics with sensitivity and nuance. I adored It Happened One Summer about an Alexis Rose (Schitt's Creek) inspired character, a rich Hollywood influencer  who is cut off and sent to a small fishing town on the Washington coast where she learns who she really is behind her Insta filter and also finds love with a rugged fisherman.
Alexandria Bellefleur– A Seattle-set romance about fake dating gone wrong (feelings! chemistry! more feelings!) between an cool, beautiful actuary and a sweet, spontaneous astrologist, Written in the Stars is a fabulous opposites attract f/f romcom.
Joanna Bourne- The absolute queen of writing a French accent!  Bourne's Regencies include intricate spy games with France, and every book is perfection.
Kelly Bowen– A Duke in the Night is an unapologetically feminist Regency with a headmistress who challenges her charges to see beyond society's strictures and a profit-seeking duke who's come to steal her family's business…and perhaps her heart.
Emma Chase– Her Legal Briefs series about sexy lawyers is written entirely from the male point of view, a rarity in the romance world.  Readers feel as if they have actually crawled inside a guy's mind and are privy to all his thoughts—many crude but hysterical—and feelings.
Loretta Chase– Everything Chase writes is magic, but her best is the Regency classic, Lord of Scoundrels, picked by NPR as the number one romance novel of all time.  The scene where he slowly peels her glove off in the French café will raise your temperature at least ten degrees.
Kate Clayborn– The delightful Love at First transforms the fated mates trope into an enchanting contemporary romance. She lives in her deceased grandmother's condo, surrounded by beloved furniture and a found-family of neighbors. When a handsome–and slightly familiar–medical resident inherits a unit in the close-knit building and plans to turn it into a short term rental, she engages in a little light sabatoge…until her its her heart that's entangled.
Alice Clayton- Farm to table never looked as sexy (or laugh out loud fun) as it does in Clayton's Hudson Valley series about a hot organic farmers and cheese mongers.  Start with Nuts… which is about a walnut farmer.  Geez, what did you think it was about, you dirty bird?
Alyssa Cole– Sparkling dialogue, characters with realistic flaws, and a true appreciation for nerd culture elevate Cole's Reluctant Royals series to its own class within the royalty romance sub-genre. In A Duke by Default, a posh woman viewed as a hot mess by her family and friends learns to embrace her intuitive gifts once she realizes she has ADD and drags a gruff Scottish sword maker (#swordbae!) into the modern world of social media…and perhaps a secret dukedom.
Olivia Dade– Spoiler Alert hits so many perfect notes: positive plus-size rep, healthy boundaries drawn with toxic family members, and a deep dive into the world of fan-fic, but what makes this book sing is the incredible romance between a scientist who doesn't know the hunky actor she dates after a viral tweet is actually her online BFF and fan-fic partner.
Victoria Dahl- Author of both contemporaries and historicals, Dahl's heroines are always perfectly imperfect.  Her Donovan Brother's series about siblings who own a brewery is terrific, especially Bad Boys Do with several memorable, steamy scenes.  All I'm going to say is "hottub" and "mirror".
Lauren Dane– Her small town Chase Brothers series is capped with the terrific Making Chase about a plus size heroine with an oversized heart.
Rosie Danan– The Roommate takes the forced proximity trope in a whole new direction when a prim and proper New Englander hoping to reconnect with her childhood crush ends up rooming with his sub-letter, a very sweet, very hot guy who just so happens to be a porn star. A+ for sex positivity, all the feels, and a truly special read.
Tessa Dare– If you haven't read The Duchess Deal yet, shut your laptop right this instant and run to the bookstore or library to get this book.  It's that good.
Alexis Daria– What happens when a former soap actress needs to prove she's leading lady material by staying out of the tabloids after a messy public breakup, but her new co-star wants to prove himself in American TV after crossing over from telenovelas by generating smoking hot chemistry with his new costar? Read the delightful You Had Me at Hola to find out!
Evie Dunmore– When a member of the women's suffrage movement who studies art at Oxford is forced to marry a rough business tycoon because of one tiny kiss in Portrait of a Scotsman, she fears he'll take her freedom. When her heart is stolen instead, she must decide if she wants to stay and fight for their marriage or run to France to study art and be her own woman…or perhaps find some way to have both independence and love.
Cecilia Grant- A Gentleman Undone is a stunning Regency with a heroine who begins the novel as the mistress of another man. Despite the many obstacles in their way, both the hero and heroine eventually find solace and eventually peace from their dark wounds within the other's arms.
Jasmine Guillroy– This contemporary romance begins with a "will-you-be-my-fake-girlfriend-at-my-ex's-wedding?" premise but moves into something much more intense and complicated with an interracial couple dealing with long distance romance. The Wedding Date is a book to root for.
Alexis Hall- A m/m romcom that is by turns hysterical and heart wrenching, Boyfriend Material is the ultimate opposites attract with a very proper barrister and a messy (literally and figuratively) son of a disgraced rock legend who works at a dung beetle charity (named, appropriately CRAPP) agree to fake date for the most logical of reasons, but logic flies out the window in the face of both their insane chemistry and growing care.
Julie Hammerle- An elementary school principal in her forties gets an unexpected surprise when her one night stand with a playboy benefactor after the school auction leads to pregnancy in Knocked-Up Cinderella. 
Lorraine Heath- Heath does both historical westerns and Regencies.  Texas Destiny about a mail order bride and a cowboy with an eyepatch will gut you.
Emily Henry– Two best friends who take a trip every year together…until something happens one vacation and now they haven't spoken in two years. The heroine realizes she needs to fix things or she'll never be happy again, so she invites him on one last trip together. Can they repair their friendship, or perhaps create something new? People You Meet on Vacation is delightful, heartfelt, and full of the best kind of pining.
Talia Hibbert– The incredible Brown Sisters trilogy begins with Get a Life, Chloe Brown, a British-set romcom that features a heroine dealing with a chronic health issue, her sweet artist neighbor who she may or may not spy on through the curtains, a grumpy cat, and a truly swoony romance.
Helen Hoang- Her debut novel, The Kiss Quotient, received tons of acclaim, and it's all deserved. This unique tale of an autistic woman who excels as an economist and the male escort she hires to teach her about intimacy is beautifully written and full of heart.
Jenny Holiday – A tale about a pop singer-songwriter who wants to escape her life to write in peace for a summer and the art professor she met years ago who is so unconnected to pop culture that he doesn't know who she really is, Famous stuns with a slow-burn, the powerful emotional connection of the hero and heroine, and great cast of supporting character.
India Holton– Spies, pirates, and…floating houses? The Wisteria Society of Lady Scoundrels is bananas in the best way. It's a historical romance best classified as a romp with over the top characters, twists and turns, and delightful banter between the proper lady pirate in training and the mysterious man come to foil her plans.
Sarah Hogle– The lovers to enemies to lovers romcom, You Deserve Each Other, turns the trope on its head when a woman realizes the only way to get out of her engagement (and some hefty wedding fees) is to force her fiancé to break up with her. But when the two go head to head in a hysterical battle of attrition, they finally discover the real person beneath the perfect veneer and might perhaps accidentally fall in love for real.
Elizabeth Hoyt– Her Maiden Lane series is known for emotionally complex characters, earthy love scenes, and unconventional heroines.  An absolute must read.
Eloisa James- The newest series from this prolific historical romance writer, The Wildes of Lindow Castle, is great fun with witty dialogue, intriguing secondary characters, and hot chemistry between each novel's hero and heroine. Begin with Wilde in Love.
Beverly Jenkins– Ms. Bev crafts compelling contemporary romances as well as historicals known for her detailed research. A good place to start is Indigo about a former enslaved woman who hides travelers on the underground railroad and the mysterious, injured conductor who she must nurse to health. Steamy, sensitive, and gripping.
Abbie Jimenez– The Happy Ever After Playlist is a beautiful–and funny–story of finding love after grief, sparked by a lost dog jumping through a car's sun roof, leading to a sad artist connecting with a rising musician…and of course, love.
Lisa Kleypas– Her Hathaway series puts you in the heart of this eccentric family.  Love in the Afternoon's letters between a dreamy animal lover and a soldier at war will squeeze your chest (in a good way), and Seduce Me at Sunrise will give you all the feels with the story of a fragile consumption patient and the taciturn Romany who loves her from afar.
Christina Lauren– The pen name for a duo of writers, their novel The Soulmate Equation explores the topic of dating services when a new company promises to match couples based on DNA. When a scrappy single mom matches with a stern doctor at the company at an astounding 98% compatibility, she has to decide if she'll lower her walls…and if this new connection is too good to be real. Lauren's foray into women's fiction, Love and Other Words, is an un-put-downable read with a twist at the end that will squeeze your heart.
Eva Leigh- Her Regency novel From Duke Till Dawn features a duped duke who vows to punish the con woman who ran off with his money…and his heart.
Julie Anne Long– Her tales about the feuding Redmond and Eversea families and their adventures in love make her readers wish they lived in picturesque Pennyroyal Green.  Never before has a vicar been as sexy as in A Notorious Countess Confesses.  And Long's new contemporary series is just a good.  The chemistry between a sexy movie star and a wounded waitress in Hot in Hellcat Canyon was off the charts!
Roni Loren- Her series about a group of adult survivors of a school shooting has a dark premise, but these powerful books highlight self-acceptance, healing, and, ultimately, love. Start with The Ones Who Got Away.
Mhairi McFarlane- She needs a fake boyfriend to divert the office gossips when her longtime love ups and leaves her and immediately gets another woman pregnant. He needs to show the bosses he's reliable and steady with his player ways behind him. When these two fake date, real feelings get involved in the lovely If I Never Met You.
Casey McQuiston- Red, White & Royal Blue is the romcom enemies to lovers tale of the prince of England and the son of the U.S. president. It starts with one of them getting shoved into a cake and ends with a love so pure and true that this novel absolutely deserves its bestseller status.
Courtney Milan- Milan's historical romances feature diverse characters who are often flawed in unique ways.  Lots of heart. Tons of chemistry. Gorgeous writing. In After the Wedding, a duke's son posing as a valet to gather intel is forced into marriage at gunpoint. The heroine dreams of love but refuses to trap her handsome new groom into a marriage not of his choosing. Now if only they can avoid consummating their vows so they can get around to that annulment…
Sarah MacLean– Her historical romances weave together a modern feminist sensibility with the delightful history that Regency fans adore. In Bombshell, a group of four women work together to help right the wrongs done to women without power. The heroine uses her wiles as a weapon, but she can't shock and awe her way into the one place she most wants to be…the closed off hero's heart.
Alexa Martin- Her football WAG (wives and girlfriends) novel Intercepted is a delight, with a heroine who doesn't want to date another football player after her pro-athlete boyfriend cheats on her. But sometimes the heart forces the head to sit on the sidelines and makes a winning play, and this book is definitely a winner.
Beth O'Leary– This debut novel has both humor and heart as The Flatshare follows a woman who's desperate for a place to live after she and her boyfriend break up…and she ends up sharing a flat in London with a man who works at nights. They share a bed, they share increasingly poignant post it notes, and they end up with a shared belief in love.
Lucy Parker– Battle Royal is for everyone who wished the GBBO had a bit more spice included in its delightful bakes. When a former reality baking show contestant who now owns a whimsical bakery is asked to join the show as a judge, the grumpy judge who once kicked her off the show is now her co-worker…and her fiercest competition to win the coveted contract to create a royal wedding cake. With Parker's trademark authentic intimacy, Battle Royal is a royal treat.
Scarlett Peckham– Peckham's lush writing shines in The Rakess, a historical romance that turns the rake trope on its head. The heroine lives fearlessly, loudly, and proudly as an unconventional woman in a conventional time. The gentle, widowed architect next door to her summer residence ends up in her bed…but can he find his way through her moats and drawbridges to her heart?
Susan Elizabeth Philips– SEP's fans are a loyal bunch and for good reason: her complex characters are compelling, original, and easy to fall in love with.  Her Chicago Stars series will make even non-football fans clamor for more.
Julia Quinn- JQ is the titan of Regency romance and now Netflix as well. Her Bridgerton series has sold a million zillion copies, and for good reason.  Her writing is witty, funny, and full of heart.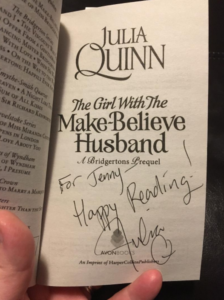 I met JQ at a library event, and she signed my copy of her latest book.  Clearly, we are BFFs now. 
Alisha Rai– Rai's Modern Love series explores dating in the age of apps with ghosting, catfishing, and going viral. In First Comes Like, a makeup influencer is thrilled to finally meet the Bollywood actor whose DMs have caused her insides to spark for months. But when he says he has no clue who she is, the apparent catfishing causes her to doubt herself. However, a fake dating agreement benefits both of them…until she catches real feelings for the real man.
Penny Reid– Have there even been a band of brothers as sexy, funny, and maddening as the Winston boys? Set in small town Tennessee, the Winston Brothers series tackles big issues like OCD, toxic parents, and organized crime with sensitivity, insight, and even humor. Every character sparkles.
Katee Robert– Looking for something with some extra spice? Check out Neon Gods, a Persephone and Hades retelling set in a modern Olympus. Scorching, gripping, and unique.
Kennedy Ryan– When a powerhouse campaign manager returns home, she's reunited with her childhood bestfriend–and first love–in Queen Move. The attraction between her and the private school principal rekindles into an inferno, but "it's complicated" is taken to a new level with a new ex, a child, and family secrets between them. Can they find a way to one another through all the drama that pushes them apart?
Cat Sebastian– Her Regency novel Unmasked by the Marquess is a lovely story with a main character whose tale is often ignored in historical novels as Robin is non-binary. Born a woman but posing as a man, Robin feels most true when dressed in boots and trousers, and that's alright with the handsome marquess who falls in love.
Mia Sheridan– Sheridan's novel Most of All You is a beautiful tale, both mournful and hopeful, of two survivors finding peace. Although the heroine finds courage in the hero's love, she ultimately has to save herself, sending a powerful message about her own strength.
Rachel Lynn Solomon– The Ex Talk is a love letter to NPR. When a radio producer pushes herself outside her comfort zone, she ends up anchoring a new radio show with her work nemesis, the handsome new guy who won't shut up about his fancy advanced journalism degree. But when their show, built on the itty bitty lie that they are exes who get along, becomes a hit, will the lie get in the way of finding something true between them?
Sally Thorne– Her debut novel, The Hating Game, is the swoon-worthiest of the beloved enemies-to-lovers trope. The electric clashes between the perky heroine and taciturn hero who are coworkers competing for the same promotion will have you fanning yourself. Read this book!
Avril Tremayne– The Dating Game, is a contemporary set in Sydney with sparkling dialogue, intense chemistry, and characters to fall in love with.
Olivia Waite– The Lady's Guide to Celestial Mechanics is a swoon worthy Regency f/f romance with a wealthy aristocratic widow sponsoring an ambitious astronomer who not only shows her the stars but also a new way to love.
Rebekah Weatherspoon– The subtitle of her novel Rafe: A Buff Male Nanny kind of says it all. A fun, sexy read.
Hannah Whitten– For the Wolf is a fantasy romance that plays with the story of Little Red Riding Hood. Twins sisters are princesses of a kingdom. The eldest is destined to wear the crown and the younger is promised to the wolf, a mysterious being living in the haunted forest in the north. What Red discovers amongst the magical trees will pull you into the pages and won't let go until you've gobble up this inventive, engrossing tale.
Meryl Wilsner– When a Hollywood powerhouse makes her lovely assistant laugh on the red carpet, the gossip magazines claim the two beaming women in the paparazzi pics are in love. Wilsner's delicious Something to Talk About is an opposites attract romance to sink into.
Recommendations in Other Genres
Romance readers are a very loyal bunch, but sometimes we like to explore other shelves at the library. Here are a few suggestions in popular fiction.
Fredrick Backman – His Swedish novel, A Man Called Ove, begins as the tale of a curmudgeonly old man half heartedly attempting to end his life. However, the intrusive new neighbors keep interrupting his plans, and Ove's flashbacks to his younger years explain the cause of his depression. Ultimately, a hopeful and uplifting tale.
Anthony Doerr– All the Light We Cannot See, a novel set in France during WWII, interweaves two stories: a blind French girl entrusted with a museum treasure by her missing father and left in a small town with a relative who soon passes away, and also a German orphan boy who is taken into a Nazi school when he shows aptitude with the science behind radios. Eventually, the two tales converge. The prose is elegant, the story gripping, and the ending will gut you.
Jeffrey Eugenides– The easy description of Middlesex is that it's a story about a hermaphrodite, but that's like saying the Mona Lisa is a painting of a woman with a little smile. Covering three generations, this novel travels from a tiny village in Greece to the Motor City and ends with Calliope discovering the reason why she's never felt at ease in her own skin.
Gillian Flynn– The writing technique of the unreliable narrator is an oldie but a goody (see The Great Gatsby), and Flynn's Gone Girl ratchets up the suspense in the tale of a missing woman and her husband who comes under suspicion with each chapter.
Jamie Ford– Based the real story of Seattle's Panama Hotel where the stashed belongings of Japanese family's were found years after the forced internment of WWII, Hotel on the Corner of Bitter and Sweet takes the reader on a journey through both boyhood and golden years as  Chinese American Henry reflects on his friendship and budding love with a Japanese American classmate who was placed in a camp.
Neil Gaiman– His debut novel Neverwhere, an urban fantasy set in London, follows an average bloke whose act of kindness to an injured young woman plunges him into a shadowy parallel world beneath the great city. Gaiman's descriptions are both vivid (an evil smile described as a a mouth full of crooked tombstones) and engrossing.
Andrew Sean Greer– The Pulitzer Prize winning novel Less dives into the life of Arthur Less, a novelist of middling renown whose lover is marrying another man. Accepting every two bit literary invitation he receives, he travels the world, trying to flee his sadness and self-perceived failings. By turns humorous and profound, the ending will surprise and satisfy.
P. D. James– A delicious dive into the world of Pride and Prejudice after our beloved Lizzie and her Mr. Darcy have been married for several years. A body is found on their estate in Death Comes to Pemberley, and the wretched Wickham is accused of the crime. He's guilty of many things, but is he a murderer?
George R.R. Martin– Everyone worships Game of Thrones on HBO, but most haven't dived into Martin's massive series, A Song of Fire and Ice. With over a thousand named characters (!), the world building going is epic, but the characters, conflict, and unseeable ending have fans clamoring for his latest installation.
R. J. Palacio– Her middle grade novel Wonder explores both the challenges and moments of grace for the Pullman family whose son Auggie has a facial difference. Auggie is placed in school for the first time, and must navigate stares, whispers, bullies, and new friendships. Moving, uplifting, and ultimately, a triumph.
Ann Patchet– Bel Canto is that rare book where the beautiful quietness of the setting almost eclipses the shocking plot premise. A party of well healed foreigners in an unnamed South American country is taken hostage by a liberation terrorist group, but as the languid days pass, boundaries dissolve. A beautiful novel that will stay with you for a long time.
Lisa See– Snow Flower and the Secret Fan is a story of women's friendship. Set in 19th century China, two young girls are bonded together as "old sames", sending coded messages about their lives along the spines of fans. The description of the ritual of foot binding poses the wrenching question- would you break all the bones in your daughter's feet to ensure she does not become an outcast?
Graeme Simsion– Set in Australia, The Rosie Project explores the life of Don, a scientist likely on the spectrum, whose clueless descriptions of his  many gaffes causes the reader to both cringe and laugh out loud. Don's scientific approach to finding a wife quickly rules out Rosie, a bright, bohemian bartender whose search for her biological father soon has Don as her detective sidekick. Delightful.
Alexander McCall Smith– Somehow, this Scottish male author channels the grace and insight of a traditionally built, bush tea drinking, crime solving woman from Botswana, Precious Ramotswe, who opens The Number One Ladies Detective Agency with the modest inheritance from her father. Each book in this series is magic as Precious and her friends not only unravel the clues but also imbue the reader with a love of Botswana.
Zadie Smith– An unnamed protagonist in modern London navigates unbalanced relationships with three women: her mother, her best friend, and her rock star employer while trying to find her way. The joy found in dancing underscores all in Swing Time.
Mary Ann Shaffer & Annie Barrows– The Guernsey Literary and Potato Peel Pie Society (what a mouthful!) is a post-WWII epistolary novel connecting a young woman writer from London to a pastoral group (including a taciturn, hunky farmer) from the island of Guernsey, only recently liberated from the Nazis. An ode to the power of books, even in times of darkness.
Leah Stewart– A searing exploration of both the joy and comfort found in a deep friendship and the power to be hurt by the one who knows you best, The Myth of You and Me follows historical research assistant Cameron as an assignment from her recently deceased boss and mentor sends her on journey to revisit her own history.
Victoria Helen Stone– Victoria Dahl writes suspense under this name, and her novel Jane Doe about a rather likeable sociopath who seeks vengeance against the man who caused her friend's suicide is the revenge fantasy many women need right now given all the abuse against women by men in power that we've had to wade through recently.
Angie Thomas– Her YA novel, The Hate U Give, explores the seismic changes in a black teenagers life when she witnesses her childhood friend's murder at the hands of a police officer. Powerful, timely, and coming to the big screen soon.
Winifred Watson– Miss Pettigrew Lives for  Day occurs over one day–an important day!–of a recently fired governess whose pockets are empty in 1938 London. She falls down a rabbit hole with an accidental job as an assistant to a lounge singer, and despite the glitz of her new surroundings, she maintains her common sense and innate dignity, earning her a Cinderella worthy ending.
Andy Weir– The Martian has a lot of science, but even a casual fan of space can sink into this incredible tale of a lone astronaut stranded on the red planet. With irreverence, derring-do, and brains, the hero tries to "science the f@*k" out of his dilemma.